The GeoT Master specialisation trains the next generation of scientists and industry leaders to harness georesources for a decarbonised future. This is achieved through a comprehensive curriculum of discipline-focused courses, field schools, and research internships.

This new specialisation – coordinated in partnership with the IFP School – is a part of the Earth, Planetary, and Environmental sciences (STPE) Master program at EOST.
NEW PROGRAM OPENING !!! September 2023
Entering 1st or 2nd year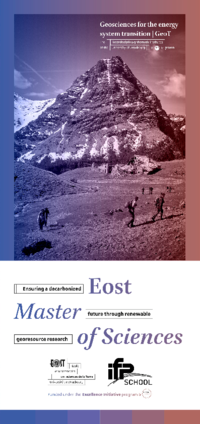 Objectives
Students will develop a holistic understanding of the diverse interconnections existent between geoscience research and industry. They will develop initiative and autonomy through the design and execution of multidisciplinary projets that expose them to a research and development environment. Finally, student will be exposed to a large network of professionals, preparing them for a wide range of postgraduate careers, including academic research.
Program
The GeoT specialization – taught entirely in English – is a 2-year program that takes place over four semesters. This multidisciplinary program combines courses in the geosciences, engineering sciences, data sciences, and social sciences with field schools, participation in international conferences, and research internships.
The first year of the GeoT specialisation is devoted to mastering the scientific and technical basics in geophysics. It includes a geological field school that showcases crustal reservoirs in nature and an international seminar series. Students will be introduced to the scientific method through research internships
The second year delves more deeply into emerging fields including renewable georesources, big data and artificial intelligence, and the position and perception of these technologies in society. 70% of the second year is dedicated to intensive research internships and a capstone field school applying the skillset learnt through coursework to an active geothermal site.
Research and development internships in a professional environment are possible.
Skills
Students of the GeoT specialization will learn to:

Observe, characterise, and quantify the physical properties of the subsurface using different geophysical tools, at different scales; 
Process and analyse various digital signals and in a geographic information system;
Understand, design, and implement mathematical models simulating physical processes ;
Identify, analyse, and understand questions of social perception of the georesource sector;
Design, execute, and defend of scientific studies;
Write and present for an academic and professional audience.
Opportunities
The GeoT specialisation will prepare students for careers in:
Earth, renewable energy, and environmental sciences research;
Research and development;
Industrial engineering;
Prospection and exploitation of renewable georesources; and 
Natural and anthropogenic risk mitigation.
Admission criteria
Master 1: Pre-requisites for admission to the 1st year of the Master program: an undergraduate degree in Earth Sciences, physics or equivalent degree (180 European credits)
Master 2: Pre-requisites for admission to the 2nd year of the Master program: a Master degree in Earth sciences, physics, or an equivalent degree.
PhD: An Earth, planetary, and environmental sciences Master degree, with GeoT specialization, from the University of Strasbourg, a Master of Science with a specialization in geophysics or physics, or equivalent degree
Contacts & Registration
To apply to the Master program, please go through the following sites:
international students -> campusfrance
french students or international students that have already studied in France -> M1 monmaster and M2 ecandidat
Warning: 1st year (M1) applications are common between multiple specializations under the title "Géosciences et transition énergétique", only after you will have to select the GeoT specialization